Welcome to White Mulberries
White Mulberries is the London café of choice for people looking for a break from their busy lives and savour life's simple pleasures.
Our relaxed atmosphere, combined with the sights and sounds of St. Katharine Docks and Hay's Galleria, provides an ideal space to enjoy our freshly brewed coffee, delicious pastries and all-day brunch. We ensure the highest quality ingredients in all our dishes.
Don't miss out on our signature Banana bread that has been perfected over the years - providing you with an amazing taste that won't be forgotten. Whether it's catching up with friends or just a quick pick-me-up, White Mulberries is designed to provide you with an unforgettable experience that'll make every visit special.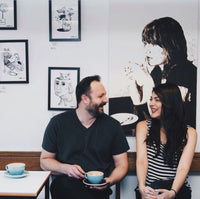 White Mulberries was born from the shared passion of founders and couple, Rana and Peyman. United in their love for great flavours,they sought to create a place of gathering that captures their desire to share all things tasty.